Jewelry designer/television personality Robert Manse recently teamed with Novell Design Studio's Custom Shop to create a personal, one-of-a-kind men's platinum ring. Specially made to celebrate his twenty-five years in the jewelry industry, the solid platinum contemporary style showcases the brilliant "Manse Diamond." One and a half carats in size, it has been Robert's mission to find a perfect fancy intense blue diamond to set in his own custom creation. Not only has such a stone been discovered, but it is set for life in the worlds most precious metal!
What is a Blue Diamond?
Naturally blue diamonds have been found in mines of South Africa, Australia and India. Colored diamonds are a lot like snowflakes – no two are exactly alike. Blue is among the rarest colors in the diamond family. In fact, they are more rare than pink diamonds, and quite valuable. Their appearance is caused from boron trapped in the crystal's structure.
Why did Robert Choose Platinum?
Platinum is considered to be the best precious metal for protecting expensive diamonds. Platinum is 100% hypoallergenic and naturally white in color, so it never needs to be rhodium plated (unlike white gold). It goes extremely well with colored stones. In fact, platinum holds them more secure than any other metal in the marketplace. Diamonds are the hardest gemstones and platinum is the most superior precious metal…a perfect combination.

What is Custom Shop?
Novell Group is extremely excited to introduce our new Custom Shop division, where our state of the art manufacturing facility brings the independent retail jeweler an easy way to say – "Yes, I can custom make that for you."
Custom Shop offers 3D printing, so your customers can try on their jewelry before it's put into production. Here are more Custom Shop capabilities:
• We provide price quotes and CAD renderings within forty-eight hours for customer approval.
• Finished pieces are delivered within three to four weeks.
• Every creation is 100% made in America, so there's no waiting for your order to arrive from overseas.
• Our domestic manufacturing muscle, with casting facilities, an extensive machine shop, and a skilled hand fabricating staff, gives our authorized retailers a clear path to market advantage.
• Some of our other technologies include casting, mold making, machine fabricating, finishing, setting, jewelry work, restoration, engraving, braiding and plating.
Interested retailers can call 888-668-3551 for more information.
Are you a consumer wanting to have a piece of jewelry custom made? Please contact one of our authorized retailers and tell them you want Custom Shop to make your jewelry dream come true.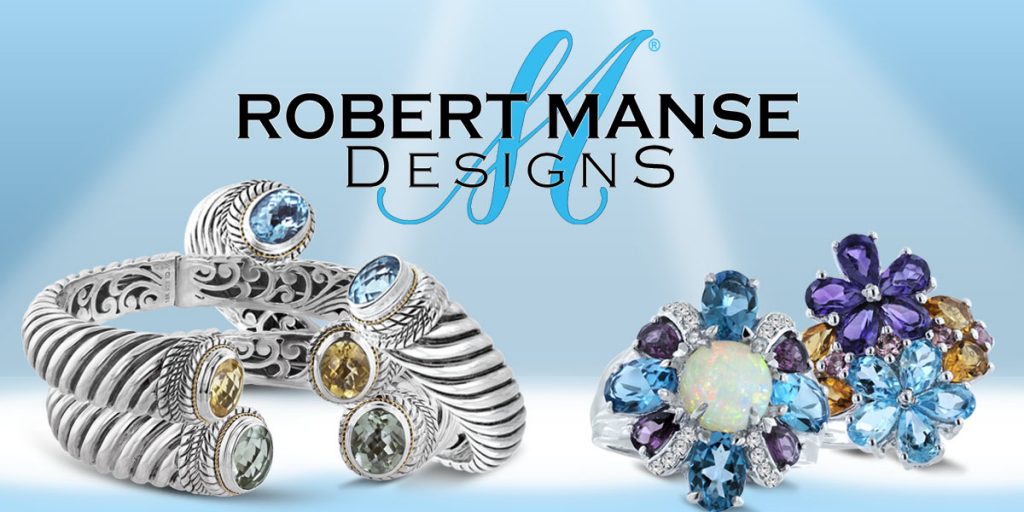 More about Jewelry Designer Robert Manse
A New York City native, designer Robert Manse has been captivated with jewelry since he was a young boy. His first job in Manhattan was with a diamond jewelry manufacturer in Midtown Manhattan where he learned how to enchant his customers by providing quality jewelry at attainable prices. Over the course of many years, Robert was taken under the wing of two Master Designers who taught him the art of making fine and unique jewelry in the U.S. and abroad.
With over twenty-five years of expertise, Robert has designed several successful high-end jewelry brands and his lines have been showcased at some of the world's top luxury retailers. From glamorous red-carpet looks to exotic hand-crafted silver creations, Robert Manse has customized jewelry for and dressed many a celebrity in his unique wearable art. Showcasing his collections at retailers and TV stations worldwide, he has traveled to some of the most exotic locales in search of the most passionate and skilled craftsmen and jewelers to bring his spectacular creations to life. From India to Hong Kong and Thailand to Bali, seeking the perfect balance of world-class gemstones and metals, keeping wear-ability and comfort in mind, Robert designs fashion-forward yet classic designs with bold color or material combinations. This is his never-ending passion.
Check out Robert Manse Designs jewelry.
---