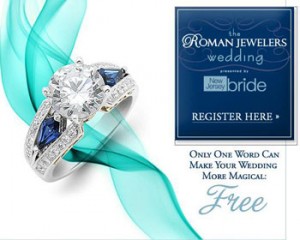 Roman Jewelers, Bridgewater, New Jersey's finest retail jewelry store, invites future brides and grooms to enter to win The Roman Jewelers Wedding – a one of a kind luxury wedding given away to the one deserving couple who has best accomplished a Good Deed for charity. Ten finalist couples will be chosen to test their philanthropic strength in a competition where everyone wins. The grand prize? Everything a loving couple needs to make a fantasy wedding dream come true.
Tell Roman Jewelers your compelling love story at The Roman Jewelers Wedding Auditions on July 17th, 2010 at The Villa at Mountain Lakes, New Jersey. And if you wow Roman Jewelers with your story, you might be one of the twenty semi-finalist couples.
Register for The Roman Jewelers Wedding contest.
---