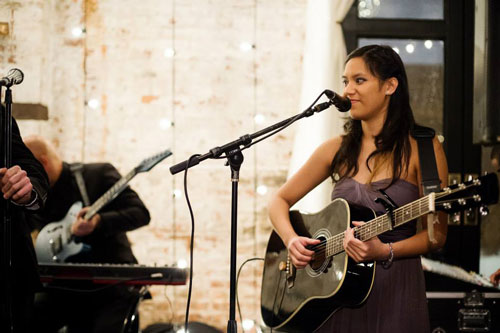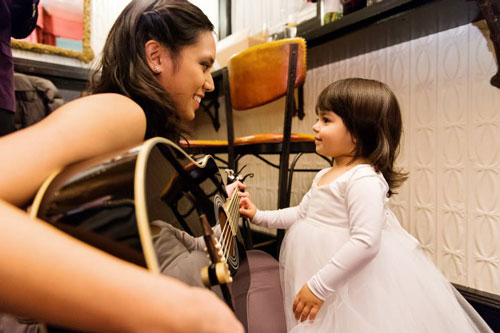 Your wedding is almost all planned. You've tasted dozens of hors d'oeuvres, smelled quite a few flowers, and planned the seating arrangements. You've even decided against that costly ice sculpture (which melts away anyway). Now it's time to make a decision on one thing that really helps sets the tone for the entire event – your wedding music.
For most, the decision boils down to whether you want to have a DJ or live music. If you are having an intimate wedding and love live music – why not hire a wedding singer? Anna Bansil just might be THE wedding singer who can add that extra sparkle to your extraordinary day!
Based in New Jersey, Anna can travel anywhere in the Tri-State/Eastern Pennsylvania region. Having a performance style reminiscent of Sara Bareilles and Ingrid Michaelson, Anna specializes in heartfelt singer-songwriter/folk-pop songs and accompanies herself on acoustic or electric guitar. Her crisp, clear voice has been said to be "soothing like honey."
Anna's repertoire consists of songs that are perfect for first dances and cocktail hours. Elvis Presley's "Can't Help Falling in Love," Bob Dylan's "Make You Feel My Love," Frank Sinatra's "Fly Me to The Moon," Ingrid Michaelson's "The Way I Am," and Otis Redding's "That's How Strong My Love Is" are just a few numbers she performs. Do you have a special request in mind? Anna is able to learn songs just for your occasion. Although she may include her own spin here and there, she always tries to stick as close to the original as possible.
When Anna sang at the wedding of Kevin and Audrey M., the happy couple was overjoyed at her performance:
"We've always known that Anna was an amazing musician, but when she performed 'That's How Strong My Love Is' by Otis Redding for our first dance at our wedding we were floored. From her voice to her stage presence, her performance was emotional, powerful and memorable. It certainly was one of the highlights of our wedding."
Anna has been singing since the age of 3, having developed a love for singing after watching the movie The Sound of Music. Throughout middle school and high school, Anna participated in All-State, regional, and church choir. She was also a member of the John P. Stevens High School Choir and Khorikos, an a cappella group based in New York City. Her education includes a BA in Music and a BS in Nursing.
Aside from singing at weddings, Anna also records her own music. Some of her work can be found on YouTube. If you find yourself captivated by her voice, as we are, contact Anna today and make your wedding day truly unforgettable!