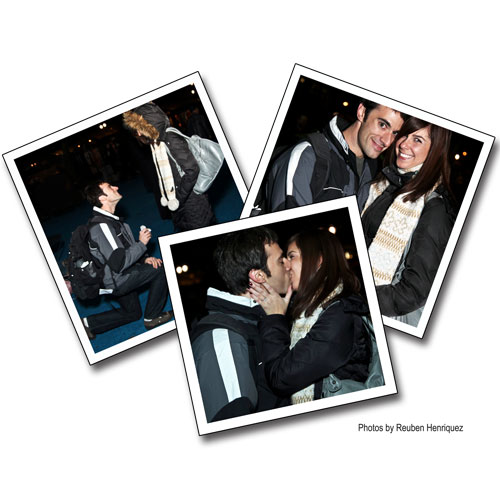 Exactly six months to the day after old high school friends Jamie Brickwedel and Christopher Barlo reconnected on a chance bus ride, Chris surprised Jamie with his proposal in New York's Bryant Park.  During the December 2, 2010 Christmas tree lighting ceremony (and soon after Jamie had serenaded her soon-to-be fiancé with Whitesnakes' "Hear I Go Again" Karaoke-style while Rock of Ages performed it live on a nearby stage), the gentleman drew a ring box from behind his back containing a platinum engagement ring (Novell's SE2459-LC) set with a 1 karat cushion-cut center diamond. The young lady was pleasantly surprised, and recounts the experience fully in the post The Big News on her blog The Island of Reality.
The future-bride is a Medical Editor at IMC-2 (pronounced "IMC squared"), while the future-groom is a Senior Electrician at Electronic Environments.
Photos by Reuben Henriquez.
---