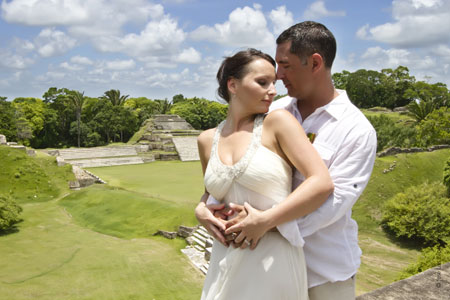 In case you didn't know, Belize is a small coastal country in Central America. After reviewing and featuring dozens upon dozens of honeymoon or vacation destinations, we've found that Belize is a lesser-known treasure. It's easy to get to and very affordable. So when considering your perfect honeymoon spot – why not put Belize on your list?
Here are ten facts that you probably didn't know about this very cool country:
As of February, 2016, the Belize currency exchange is extremely easy for American visitors. The Belize dollar is locked at $2 Belize for every $1 USD. Basically – you double your money. So it's pretty simple to see how much something costs in USD when you go shopping.
Almost everyone speaks English in Belize; it's the only English language-speaking country in Central America. While English is the official language of Belize, Kriol is the language that the natives all speak as well. So save your money on that online Spanish class. You'll be able to communicate just fine!
The climate is always just right! With an average yearly temperature of 84° F (29°C), it's always warm, yet still comfortable. Costal sea breezes along with jungle rain forests keep you cool even in the hottest summer months. Even in winter (November-March) the temperature in Belize rarely falls below 60°F (16°C), while the summer (May-September) is around 86°F (30°C). Worried about your hair frizzing? Humidity is also fairly consistent at around 85 percent. Overall, the climate is pretty much near perfect. So don't pack your boots or mittens. It's all flip-flops and shorts.
Like cats? I mean – really BIG cats? Belize has the only Jaguar reserve in the world, otherwise known as Cockscomb Basin Wildlife sanctuary.
Like fast food? Sorry, you may be out of luck. Popular franchises such as McDonalds, KFC and Burger King cannot be found. You'll have to stick with fresh local food and great weather. A typical Belizean lunch might include tamales, meat pies, seafood, cassava, garnaches (fried tortillas with beans, cheese and sauce), panades (fried maize shells with beans or fish), chirmole (soup), coleslaw, escabeche (onion soup) and vegetables
Do you snorkel or scuba dive? The Barrier Reef is Belize's top tourist destination and in 2014, it attracted over 300,000 visitors, which is about the same as the official population of the country. The reef is also vital to Belize's fishing industry.
Are you a bird watcher? Over 540 species of our little feathered friends have been recorded in Belize.
Get your monkey on! Belize's Black Howler Monkeys are one of the top 10 loudest animals in the world.
There are two seasons in Belize – rainy season (May to November) and dry season (February to May).
Whale sharks, which are harmless to humans, are also spotted in Belize waters. The best time to watch for them is in the spring. Whale sharks are actually quite gentle and can be playful with divers. See? Not all sharks are man-eaters. The biggest risk associated with swimming with whale sharks is being accidentally hit with one of their big tail fins. Keep your eyes open!
Have we peaked your interest about Belize? Feel free to contact our friend Lara at RomanticTravelBelize.com to arrange for the honeymoon or vacation of a lifetime.
---