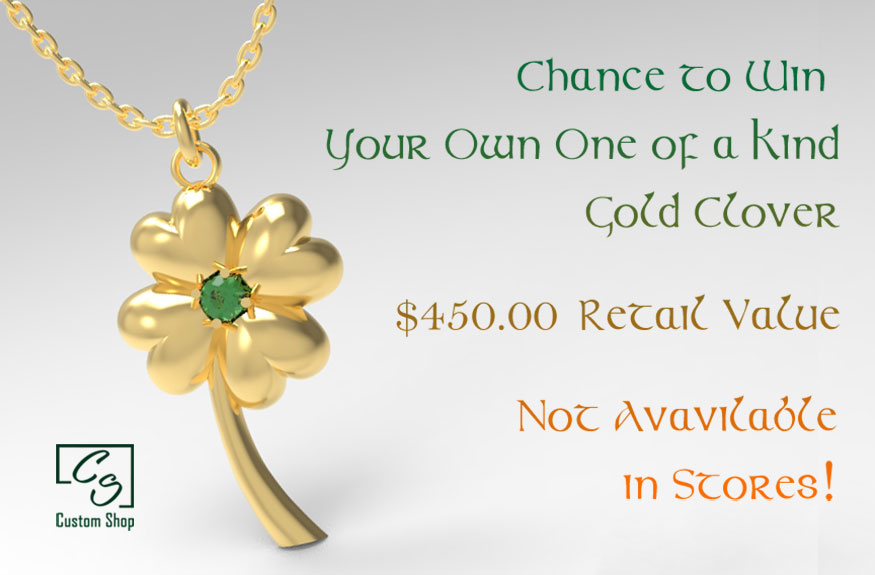 Our contest is now over. Congrats to Erica Weaver!!
Feeling lucky? Here's a chance to win your very own gold four leaf clover – just in time for St. Patrick's Day! Specially created by Custom Shop, this one-of-a-kind pendant is set with a beautiful green Tsavorite garnet, and dangles from a 18 inch gold-plated chain. Delivery will be before March 17th, so you can show off your Irish during the holiday! Not available in stores. Approximate retail value – $450.
All you have to do is earn points by following our simple social media sharing list featured below. The more sharing options you complete – the more points you earn. The top participant with the most points wins. Remember to like and share as much as possible!
Enter today. Your chance to win a one-of-a-kind gold four leaf clover ends March 12, 2018. No purchase necessary. Must be 19 or older and a United States resident. See official contest rules below for more information.
Please note: If you have won a contest by Custom Shop or any other Novell Group divisions (Robert Manse Designs, Novell Design Studio, Lieberfarb or Wright and Lato) in the past 90 days, you are ineligible to win.
What is Tsavorite?
Tsavorite is a trade name for the emerald-green variety of Grossular Garnet that was first found in Tanzania in 1967. It was subsequently found in the same geological formation across the border in Kenya in 1970 near Tsavo National Park, a wildlife preserve in the African Serengeti. Tsavorite was given its name after the national park. Due to its rarity, Tsavorite has become one of the most popular Garnets.*
What is Custom Shop?
Novell Group is extremely excited to introduce our new Custom Shop division, where our state of the art manufacturing facility brings the independent retail jeweler an easy way to say – "Yes, I can custom make that for you."
Custom Shop offers 3D printing, so your customers can try on their jewelry before it's put into production. Here are more Custom Shop capabilities:
• We provide price quotes and CAD renderings within forty-eight hours for customer approval.
• Finished pieces are delivered within three to four weeks.
• Every creation is 100% made in America, so there's no waiting for your order to arrive from overseas.
• Our domestic manufacturing muscle, with casting facilities, an extensive machine shop, and a skilled hand fabricating staff, gives our authorized retailers a clear path to market advantage.
• Some of our other technologies include casting, mold making, machine fabricating, finishing, setting, jewelry work, restoration, engraving, braiding and plating.
Interested retailers can call 888-668-3551 for more information.
Are you a consumer wanting to have a piece of jewelry custom made? Please contact one of our authorized retailers and tell them you want Custom Shop to make your jewelry dream come true.
*Information courtesy of Minerals.net.
---