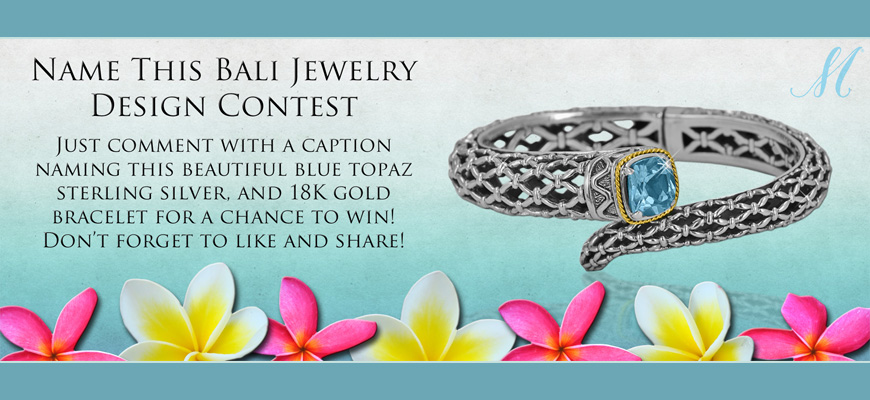 <<Click on image to enter>>
Leading Balinese jewelry designer Robert Manse is giving his fans a chance to name one of his latest sterling silver bracelet designs.  All interested participants have to do is visit the Robert Manse Designs Facebook page, click on the Robert Manse's Name This Bali Jewelry Design Contest header and post their entry. Facebook fans can enter as many times as they wish, and are encouraged to share their submission with other Facebook friends. The five most popular entries will be considered as finalists to be judged by Robert himself. A final style name will be selected based upon overall creativity along with how many Facebook "likes" the entry receives. As a bonus, the winner will also receive the bracelet to add to their very own collection. Robert Manse's Name This Bali Jewelry Design Contest will run from now through May 18, 2014. There is no purchase necessary to enter.
The style to be given away for Robert Manse's Name This Bali Jewelry Design Contest is an intricately designed handcrafted sterling silver and blue topaz hinged serpentine bracelet with 18kt gold accents. Crafted by talented artisans in a centuries old Balinese village workshop, this piece draws inspiration from the magnificent land's serpent and dragon gods. Blue topaz is a symbol of tranquility – a staple theme flowing throughout almost every niche of Bali society. The hinged design allows the bracelet to be easily slipped on and off. Elegant, charming and meaningful, this sterling silver and blue topaz bracelet also makes a fantastic gift for Mother's Day (suggested retail price $500.00).
"I love the way the light reflects off the blue topaz gemstone," comments Robert. "It is very serpentine, while at the same time, its texture also resembles the look of hand-woven baskets utilized throughout Bali daily. I wanted this bracelet to have elements of everyday life and worship. If you look closely, the tail under the gemstone seems to wave at you. When you try it on, you'll appreciate that it's bold but not too heavy. Keep in mind that similar designs of this magnitude might cost three times as much!"
More about Robert Manse Designs
Robert Manse got his start in the jewelry industry over twenty years ago working his way up with several Global jewelry manufacturing companies. Widely known for his extensive knowledge and comprehensive manufacturing connections, Robert is regarded as a trend leader in the jewelry industry.  His authentic line of Indonesian jewelry is crafted exclusively in Bali, the Island of the Gods. Inspired by the lush landscapes and the exotic colors of the islands, Robert Manse Designs jewelry combines high quality and exotic gemstones with precious sterling silver and solid 18kt gold accents into beautiful handcrafted creations.
[dciframe]http://www.hsn.com/shop/bali-designs-by-robert-manse-jewelry/j-6094,800,700,1,yes,border:1px solid blue;align:center;[/dciframe]