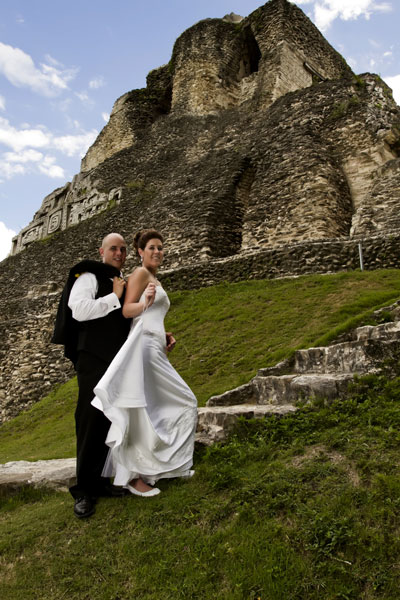 Now that 2-1-12 has passed, one of the next numerical milestones will be 12-12-12, and all the worry about the end of the Mayan calendar. The question is this – will the world really end before the end of 2012? Or will there be a series of catastrophic events that will illustrate that the end is near for all of modern mankind? Well, if you believe how the media interprets the meaning behind the end of the Mayan calendar, and if you are also thinking about getting married by the time 2012 concludes, now is the time to consider a wedding that truly is once in what may be a very short lifetime. In fact, you probably should think about Belize as the wedding destination of your choice. After all, if something REALLY bad is going to happen, then you may as well go out with style. Or by having the time and wedding of your life!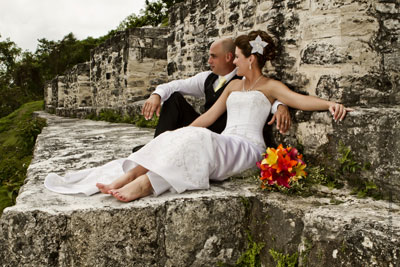 December 2012 will mark the end of the 5,126 year era in the Mayan Calendar. But instead of it being a sign of mortal finality and/or destruction, it probably should be thought of as a time of renewal, rebirth, renaissance and new beginnings. In honor of this historic and spiritual moment, thirty-six adventurous, fortunate and spiritually motivated couples along with two hundred and eighteen of their closest friends and family will partake in the unique Mayan Marriage of Many wedding celebration in Belize. This grand wedding event will be staged on an ancient Maya Temple at the 3200 year old Mayan City of Cahal Pech on December 12, 2012 (that's 12-12-12). At the same time, in five other exotic resort locations in Ambergris Caye, five additional couples will each hold their own separate full court fairytale wedding nuptials event as well.
Package for the group weddings in Cahal Pech range from $14,030 to $24,030 for the Bridal Couple (depending on their chosen hotel and other add-on options) and includes a 5-night Mini-Moon, all receptions, day tours, etc. Packages for guest couples start at $5,030 for December 9-13, 2012, with custom mini-cations also available.
While in Belize, brides, grooms and guests will be able to enjoy an exciting choice of activities that the land has to offer including zip lining, Maya massage and other healing, arts medicine trails with Maya shaman, horseback riding, Caracol and other Maya site exploration, bird watching, kayaking, cave tubing, exploring ancient caves with human remains, museums, botanical gardens, a world class zoo, repelling, spelunking, scuba diving or snorkeling around the second largest barrier reef in the world, helicopter tours, mountain biking, yoga and more.
For additional information on wedding events, packages and resort accommodations go to www.2012weddingsbelize.com.
---