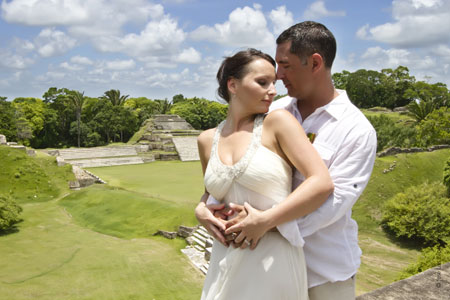 Are you looking for the wedding of a lifetime? Well here it is! The Mayan Marriage of Many will bring together 36 lucky couples to be married on 12-12-12 in Belize. This unique wedding package really is one of a kind, as the brides and grooms to be will be wedded on sacred Mayan grounds and temples. Recently Bridal Buzz gave this event coverage; a Dallas-area couple was selected as a prize winner for the Mayan Marriage of Many giveaway. Local residents may attend a special cocktail party to help a lucky couple celebrate winning a trip to Belize for this truly special event. You just gotta love it!
When Blushing Bride Boutique in Frisco was asked by Influency Group to locate a couple to participate in their contest to win a wedding in the Mayan Mountains of Belize they jumped at the chance.  And now, that couple has either won the grand prize or a runner-up package and the world will find out which it is on the morning of February 13.
So, what does all this have to do with you? Well, to celebrate the couple, Romantic Travel Belize is hosting a cocktail reception event from 6 p.m. to 8:30 p.m. the evening of February 13 at the historic Frisco Heritage Center Depot and it is open to the public.
Read – You're Cordially Invited to the "Unbelizeably in Love Cocktail Reception."
Photography: Jose Luis Zapata Photography
---