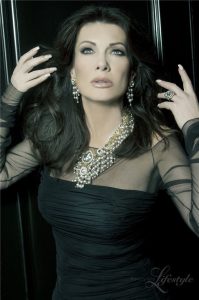 The two guilty pleasures of mine – the Real Housewives reality show and jewelry – are near and dear to my heart. And quite frankly, they feed into one another. Am I the only one to notice the truly remarkable pieces worn on the show? Sometimes I feel that way!
With the Real Housewives of Beverly Hills new season just starting, the number of magnificent pieces residing in the closets never ceases to amaze me. I mean – it's really difficult to even say whose jewelry collection takes the cake – Erika Jayne or Lisa Vanderpump? It's a tough call.
I am not proud to admit this, but I can truly gush and gaze over their various rings, bracelets, necklaces that are sported so casually. In fact, some of the housewives are decked out in the diamonds just taking the dog for a walk.
This is obviously to the extreme of luxury as that is seemingly the purpose of the Real Housewives series. However, there is something to be said for those stable, glamorous pieces of jewelry in one's collection. Just like the ladies on the show, I think that a fine piece of jewelry is appropriate for many occasions and dresses up any outfit. Whether it's a flashy bracelet or simple studded earring set, the right piece of jewelry makes a statement and be the highlight of an outfit. As the housewives make more than clear – a diamond can suit any occasion.
My appreciation for fine jewelry stems from the fact that I find it to be true art. Art that can be worn and appreciated by others and most importantly oneself. Regardless of how glamorous one's everyday life is, every woman deserves to feel glamorous, gushed and gazed over. Embrace your inner Real Housewives and wear your favorite piece of jewelry – no matter whatever the occasion. It is okay to stand out and catch the eye of others!
Article by Kelly Rupinski.
---