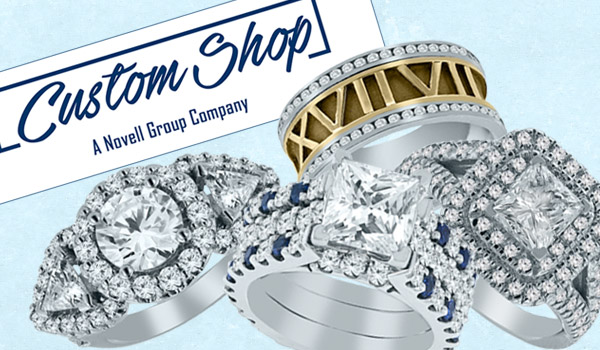 Dreaming of your perfect ring for the most important day of your life – your wedding day? Have you doodled pictures of your ideas in the margins of notebook papers for as long as you can remember? Are you tired of designs that look bland? Are rings that look "off the shelf" just not your style? Do you want to design your engagement ring or wedding band?
Have no fear! Custom Shop is here to make your ideas come to life. And you don't have to be an artist to illustrate what you want.
Custom Shop can make designs using your notes, simple line drawing, or shared screenshots from friends – almost any way you get your vision across is just fine.
All you need to do is show what you have in mind to a local retailer and have them contact us. Custom Shop prefers to work with one of our authorized retailers. But if there isn't one in your area, your favorite jeweler can most likely work with us.
Do you have old jewelry lying around? Or just wonder – what can you do with jewelry you don't wear any longer?
Custom Shop can take elements from outdated designs and make them into something wearable again. Precious gemstones from Grandma's old ring (that doesn't fit) can be set into a necklace. Or earrings (depending on their size). Even incorporated into a new bracelet.
All you need is a little vision. Custom Shop will do the rest.
Visit our official page today!
Follow Custom Shop on Instagram.
---