Get a chance to win Custom Shop's silver handmade LOVE bracelet. Featuring 14kt solid rose gold accents, the LOVE bracelet has a retail value of $175. It's also not available in stores.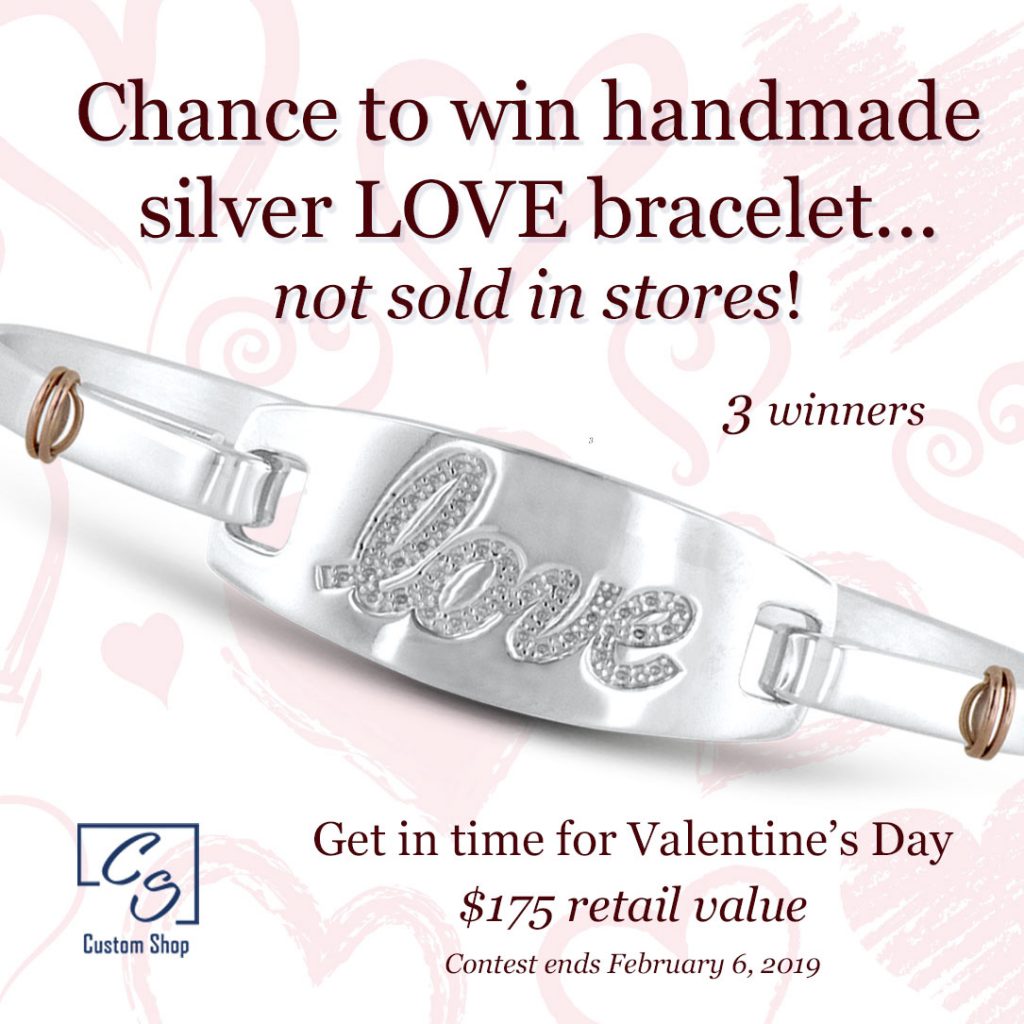 To participate, all you have to do is earn points by following our simple social media sharing list featured below. The more sharing options you complete – the more points you earn. The three top participants with the most points win (i.e. three winners chosen). Remember to like and share as much as possible!
But hurry! Contest ends February 6, 2019 at 5:00 PM EST. No purchase necessary. Must be 19 or older and a United States resident. See official rules for more information. Prizes will be delivered before February 14, 2019.
Even if you miss Custom Shop's silver handmade LOVE bracelet contest, check the Custom Shop Instagram account regularly. Custom Shop runs contests regularly.
Please note: If you have won a contest by Custom Shop or any other Novell Group divisions (Robert Manse Designs, Novell Design Studio, Lieberfarb or Wright and Lato) in the past 90 days, you are ineligible to win.
Contest by Rewards Fuel.
What is Novell's Custom Shop?
Novell Group is extremely excited to introduce our new Custom Shop division, where our state of the art manufacturing facility brings the independent retail jeweler an easy way to say – "Yes, I can custom make that for you."
Custom Shop offers 3D printing, so your customers can try on their jewelry before it's put into production. Here are more Custom Shop capabilities:
• We provide price quotes and CAD renderings within forty-eight hours for customer approval.
• Finished pieces are delivered within three to four weeks.
• Every creation is 100% made in America, so there's no waiting for your order to arrive from overseas.
• Our domestic manufacturing muscle, with casting facilities, an extensive machine shop, and a skilled hand fabricating staff, gives our authorized retailers a clear path to market advantage.
• Some of our other technologies include casting, mold making, machine fabricating, finishing, setting, jewelry work, restoration, engraving, braiding and plating.
Interested retailers can call 888-668-3551 for more information.
Are you a consumer wanting to have a piece of jewelry custom made? Please contact one of our authorized retailers and tell them you want Custom Shop to make your jewelry dream come true.
Make it easy on your jeweler, and give them a copy of our informative brochure.
Below are actual designs specially created by Custom Shop.
Thirty-one years of award winning wedding band designs – trending and changing like the people who wear them.
Novell Select represents the very best and most popular work we've done by combining bands from our Max Patrick, Z*ART, NQP, and core Novell Collections.
With over 20,000 wedding band designs in our catalogue of work, we've streamlined the selection process by cherry picking styles and creating groups.
Here they are:
• INSIDE OUT bands are one color on the inside and another on the outside. For example, signature designs for men are typically rose gold on the inside and white gold or platinum on the outside. This ever-expanding category is one of our most popular and offers designs from uncomplicated to intricate
• COLORS is a blend of designs that are popular in yellow, rose, two- or three-tone gold. Everyday jewelry is being redefined in bursts of color.
And wedding bands are no exception. This is our fastest growing category! Many of the COLOR designs are available as alloy or silver samples.
• DIAMOND bands bring stone to precious metal. Whether understated or serious-statement designs, somewhere in this collection is a band for that distinctive men's diamond band customer.
• ORGANICS are hand-forged-background textures that can be put on Novell precious-metal bands. From sand to lava, tree bark to ravine, supple to severe, organics speaks to those who identify with one of the many moods of Mother Earth.
• CIRCLES bands are stackable in groups or used as spacers. Shapes and textures are made by machine and by hand with over thirty choices and so many combinations that you will never really have to make up your mind. Diversity is a state of jewelry.
• Our TOP 20 wedding band designs literally never go out of style. See a design but want it in a different width? How about a different finish? Or maybe even add diamonds, change them or take them away? Just ask! Almost all wedding band designs can be made in platinum, palladium or gold.
• TRENDING are the top selling designs in the SELECT Collection. As real-world trending of styles changes, so does this assorted, although a lot of our most popular designs stand the test of time. Excellence is always in fashion.
Not available in stores quite yet, ALTROm is a special alternative metal collection and the result of our affiliation with HEAVY STONE RINGS in Utah. It includes bands made from diverse materials such as wood, cobalt, carbon fiber, titanium, etc., often combined with precious metal.
Check back again to see when and where ALTROm rings will be sold.
---