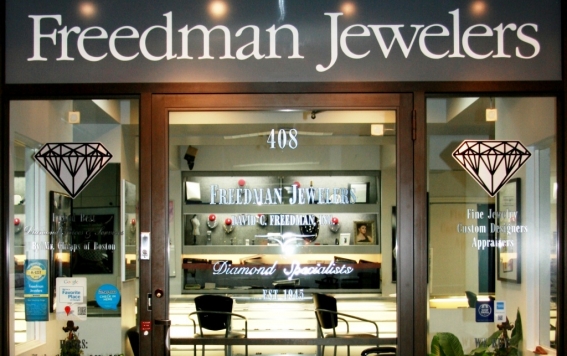 (Image courtesy of DowntownBoston.org)
Authorized Novell wedding band retailer Freedman Jewelers will be holding its annual wedding band and engagement ring bridal show from Thursday, March 13 through Saturday, March 22, 2014. Boston-area brides and grooms-to-be can browse a wide selection of ladies and men's wedding rings in all variety of designs and metals (platinum, palladium, gold and Argentium Silver). And should you see a wedding band in a millimeter or metal and need it changed – no problem. Almost all of Novell's wedding bands can be made wider, narrower, with or without diamonds, in other metals and with different finishes. All you have to do is ask!  Freedman Jewelers also carries an assortment of engagement ring settings and loose diamonds in all shapes and sizes. If you want it or need it, then chances are they have it!
You can also save $100 on any individual wedding band or engagement ring setting purchase of $500 or more ordered at the show. This special coupon is valid from March 1, 2014 – March 26, 2014. If you need a head start, Freedman Jewelers' early preview begins Saturday, March 8th. Visitors and also enter to win a $100 gift certificate to the Back Bay restaurant group, along with other prizes and giveaways to be announced. Please register online to ensure the highest level of attention for your wedding band or engagement ring needs.
Location: 333 Washington St. Ste 408, Boston, MA 02108
Validated parking at the 33 Arch St. Garage is also available. If you are driving in to Boston for this event, just enter this address into your GPS – 19 Hawley St. Boston, MA 02108
Store hours:
Thursday, March 13: 9:30am-8pm
Friday, March 14: 9:30am-5:30pm
Saturday, March 15: 9:30am-5pm
Monday, March 17 – Wednesday, March 19: 9:30am-5:30pm
Thursday, March 20 9:30am-8pm
Friday, March 21: 9:30am-5:30pm
Saturday, March 22: 9:30am-5pm
See these wedding bands and many more at Freedman Jewelers.
[dciframe]http://www.freedmandiamonds.com/bridal-show-2014/,700,700,1,yes,border:1px solid blue;align:left;[/dciframe]