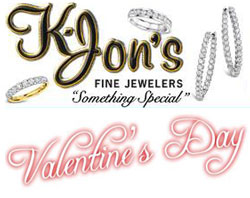 Authorized Novell wedding band retailer K-Jon's Fine Jewelers (located in Atascadero, California) is offering quite the sweet deal for Valentine's Day. Just make a fine jewelry purchase* by February 15, 2010, and receive flowers, candy, dinner discount and more. You can make this year's Valentine's Day unforgettable. Here's everything that a fine jewelry purchase at K-Jon's can get you:
Flowers – Receive a beautiful bouquet from Arlyne's Flowers and Gifts in Atascadero.
Chocolates – Give your valentine a luxurious 1-lb. box of See's Chocolates.
Dinner – Receive a $10 gift certificate to the Guest House Grill in Atascadero.
Beauty Treatment – Luxurious treatments for your hair and skin at Brooke Nicole Studio.
Wine – FREE wine tasting from Bear Cave Cellars, plus $10 off a bottle of wine or 20% off entire purchase.
Candy – Receive a chocolate rose from The Candy Bouquet, plus $5 off any purchase of $10 or more!
Learn more about K-Jon's special events and jewelry specials.