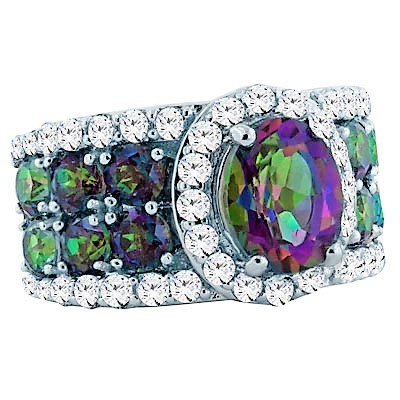 With the holiday shopping season under way, HSN's Designer Gallery with Colleen Lopez will feature another full hour of Bali Designs with Robert Manse fine jewelry on Tuesday, December 12. Jewelry designer/television personality Robert Manse is excited to promote last minute gift ideas for your shopping pleasure and convenience.
This special hour-long special broadcast will introduce many brand-new items, including a spectacular Alexandrite quartz ring, which is best described as possessing "off the charts" beauty everyone is sure to notice. Also, some of the LOWEST prices ever on his Balinese wearable art. If you're having a tough time coming up with something spectacular for someone special – your problem is solved! Hand-crafted jewelry always makes a thoughtful and memorable holiday present.
Looking for one-of-a-kind handcrafted jewelry? Robert is proud to feature local Balinese and Indian Artisan made jewelry creations exclusively on Etsy. Featuring hand-carved necklaces, earrings and pendants completely hand-sculpted using wood, polished brass and carved cow bone. Best described as Indio-bohemian in style, these artisan creations are limited in quantity. Act now, because when they're gone – they're gone! Buy unique hand-crafted Robert Manse Designs jewelry on Etsy today!
More about Jewelry Designer Robert Manse
A New York City native, designer Robert Manse has been captivated with jewelry since he was a young boy. His first job in Manhattan was with a diamond jewelry manufacturer in Midtown Manhattan where he learned how to enchant his customers by providing quality jewelry at attainable prices. Over the course of many years, Robert was taken under the wing of two Master Designers who taught him the art of making fine and unique jewelry in the U.S. and abroad.
With over twenty-five years of expertise, Robert has designed several successful high-end jewelry brands and his lines have been showcased at some of the world's top luxury retailers. From glamorous red-carpet looks to exotic hand-crafted silver creations, Robert Manse has customized jewelry for and dressed many a celebrity in his unique wearable art. Showcasing his collections at retailers and TV stations worldwide, he has traveled to some of the most exotic locales in search of the most passionate and skilled craftsmen and jewelers to bring his spectacular creations to life. From India to Hong Kong and Thailand to Bali, seeking the perfect balance of world-class gemstones and metals, keeping wear-ability and comfort in mind, Robert designs fashion-forward yet classic designs with bold color or material combinations. This is his never-ending passion.
---