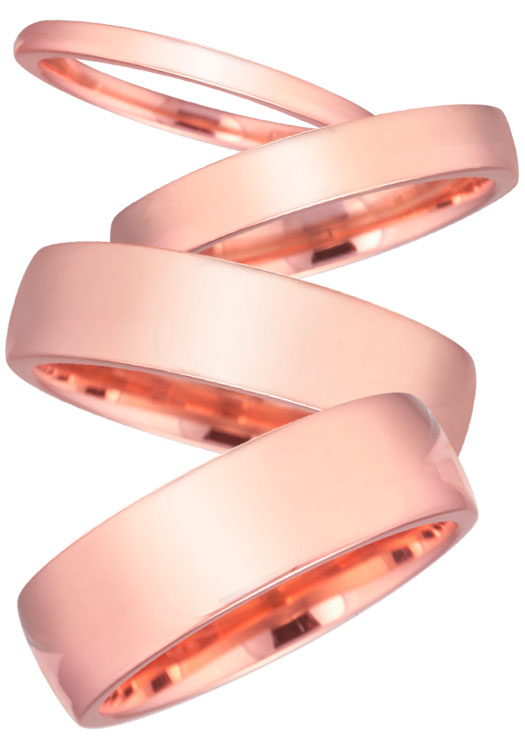 Today, rose gold is becoming more and more popular. In fact, the keyword term "rose gold wedding bands" is the most popular search phrase – ranking ahead of "wedding bands" as the number one phrase consumers search the Internet for. Rose gold is sometimes called pink gold or red gold, and many years ago is was identified as Russian gold. Rose gold jewelry will seldom tarnish. Its warm, earthy color is flattering to the skin. Rose gold also blends well with many gem colors. When choosing rose gold for your wedding band or jewelry, keep these few basic facts in mind:
• The higher the karat content (14kt, 18kt, and 24kt), the deeper the color will buy. A piece of jewelry created in 14kt rose gold will appear lighter or less rich in color than a piece of jewelry created in 18kt rose gold. Also, the higher the karat, then the longer the color will last. Every day wear-and-tear will show on almost any piece of jewelry.
• When it comes to rose gold, subtle shades are trending as popular these days. Bright pink is not as popular as a more muted blush-like tone.
• If you are looking for a rose gold piece of jewelry featuring gemstones, champagne diamonds and brown diamonds appear stunning. Morganite is also a gemstone that looks fantastic with rose gold (they are available in pastel shades), and the combination of morganite and white diamonds is especially appealing.
• You care for a piece of rose gold jewelry in the same manner as any piece of gold jewelry. A soft cloth, warm water and a mild detergent is all you need to keep your rose gold jewelry clean. Every so often, you can bring your design to your local jeweler to polish out any scratches. All jewelry will show signs of every day wearing. Wedding rings and engagement rings in particular come in contact with a lot of different surfaces.
• Men can wear rose gold as well! Rose gold wedding rings are becoming more and more popular for men, whether the design is all one color or mixed with a white metal. Novell has recently just designed over two dozen rose gold rings for men because vendors have been noticing the demand. Due to rising metal markets, the merchandise has been created with specific lower price-points in mind. So if you are in the market for a great rose gold ring – keep on the look-out!
Most Novell wedding bands can be specially made in rose gold. Contact the Novell retailer in your area for pricing and more information.