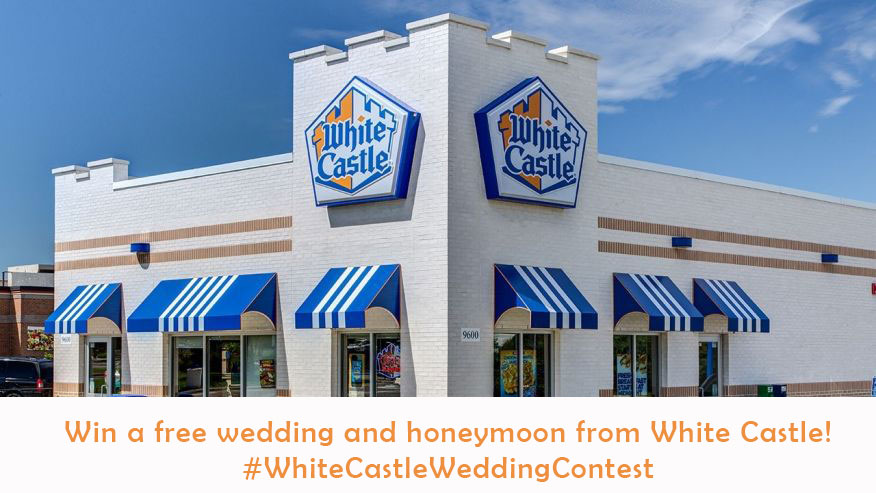 Almost every little girl at some time dreams of marrying her Prince Charming in a castle. Sometimes it's a WHITE castle! With that being said, mini-burger chain White Castle is making this dream come true.
White Castle wants to give one lucky burger-loving couple a complete wedding package, including a "royal wedding" at its Las Vegas location. The couple will also receive a free honeymoon in Belgium.
What's in the White Castle "Royal Wedding" prize package?
White Castle's "Royal Wedding" package includes a rehearsal dinner, unforgettable ceremony and spectacular reception with includes wedding cake, flowers, décor, music and professional photographer. After the special day is complete, the winning couple will then enjoy a luxurious five-night honeymoon in a Brussels historic castle. Included in the package is round-trip airfare, ground transportation, and three nights' hotel accommodation. A food and travel allowance is also part of the prize.
In addition to the Royal Wedding grand prize, White Castle is also giving away two packages of White Castle menu items and non-alcoholic refreshments for up to 200 people. These receptions can be held anywhere in the continental United States.
So even if you don't win the BIG prize, you have a chance to win your own burger-related wedding experience!
How do you win?
White Castle burger lovers looking to make their fast-food wedding dreams a reality have until July 31 to enter the contest. Visit www.whitecastlewedding.com and share your very own "royal" love story for a chance to win.
If you are going to enter – keep this in mind. Submissions must be shared on social media using the hashtag #WhiteCastleWeddingContest to be eligible. A panel of qualified judges at White Castle will select the Grand Prize and First Prize winning couples. Winners will receive an email on or around September 15.
Act fast! July 31st is just around the corner!
Did you know that over seventy-five other burger-loving couples have been married in a White Castle? However, this will be the first time the Las Vegas location has hosted a wedding (according to the chain).
We absolutely love this promotion. Anybody can be married on a beach. Or overlooking the countryside. Not everybody has or will be married in a White Castle!
The burger chain is not the only fast food restaurant to get into the wedding business. Taco Bell offers a $600 wedding at their Las Vegas Cantina chapel. But this is free! And you get to see part of the world. Who could ask for anything more?