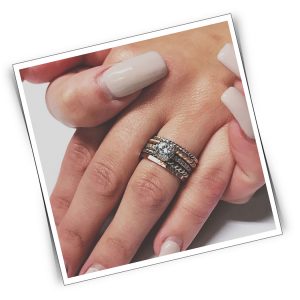 Brides are beginning to stray from the typical wedding band fashion as stackable rings are becoming increasingly popular. This trend is in part due to a newfound appreciation for the wedding band as an individual statement.
Traditionally the wedding band is simply stacked with the engagement ring and often masked by its glitz. However, this is now being challenged through the placement of multiple wedding bands on a single finger. In some cases, they are worn on a finger different from the engagement ring. This concept first emerged when brides began adding a third ring to signify a special moment such as a birth or anniversary. Now this single addition is being surpassed.
Stackable rings have evolved the wedding band search into a more creative process. There are endless possibilities to mix and match stones, textures, shapes, sizes and metals – creating a unique set just for one.
This is where the fun begins! Gone are the days when one had to pick a metal and stick with it. Now there is the idea that silver and yellow or rose gold can be coordinated to bring out the best in one another. Then comes in the choice of texture – another feature with many options. One can choose from braided, twisted, hammered, matte, rope, bead or cross hatch.
The intricacy of detail paid to each band adds to a specialization matched by few others. Despite each stackable ring being incredibly unique on it's own, when combined makes for a rather understated statement. This is achieved as each ring chosen embellishes one another in lieu of masking.
There are not many cases where such collective contrast can transcend into unity. Stackable wedding rings are approaching a new frontier of wear-ability. Contrary to the popular belief that "less is more," the additional bands are appealing to the everyday bride that desires a noticeable yet staple accessory. Its specialized detail can freshen any look without overpowering it.
However, the ultimate attraction of stackable wedding rings is determined by the individual themselves, as rings are chosen upon their unique vision.
Article by Kelly Rupinski
Sources: Why Stacked Wedding Rings Are the Next Big Trend (Glamour.com) | Trend Alert: Stacked Rings (EngagementRingBible.com)
---