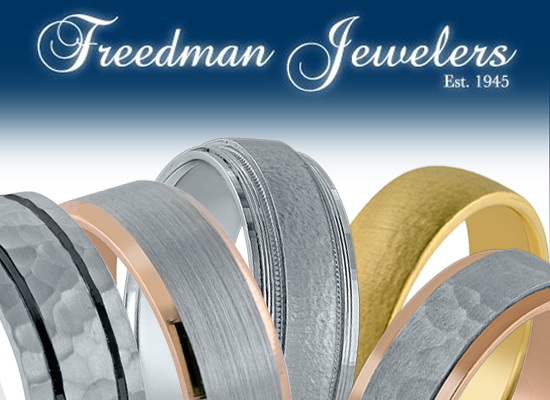 Wedding season is quickly approaching. In fact, many brides and grooms have weddings happening right now! If you are about to be married, or even newly engaged, and live in the Boston area, be sure to visit Freedman Jewelers during their 14th annual wedding band event (March 17 – 29, 2016).
For a limited time only, Freedman Jewelers will feature an expanded selection of Novell wedding bands, so be sure to take advantage. Whether it's a new style or classic design, almost all Novell rings can be made in platinum, palladium or gold. See a ring that needs or to wider? Or not as wide? No problem. If you want to make a change – all you have to do is ask!
Don't miss out! Here are Freedman Jewelers' extended hours:
Thursday March 17: 9:30am-8pm
Friday March 18: 9:30am-5:30pm
Saturday March 19: 9:30am-5pm
Monday March 21 – Wednesday March 23: 9:30am-5:30pm
Thursday March 24 9:30am-8pm
Friday March 25: 9:30am-5:30pm
Saturday March 26: 9:30am-5pm
Are you going? Let them know via Facebook.
[wpgmza id="1″]