As 2019 comes to a close – why not get started on ring shopping for your 2020 wedding? It's never too soon!
Our Wedding Band Guru Howard will be making his last bridal show appearances at Diamonds Direct in San Antonio and Charlotte.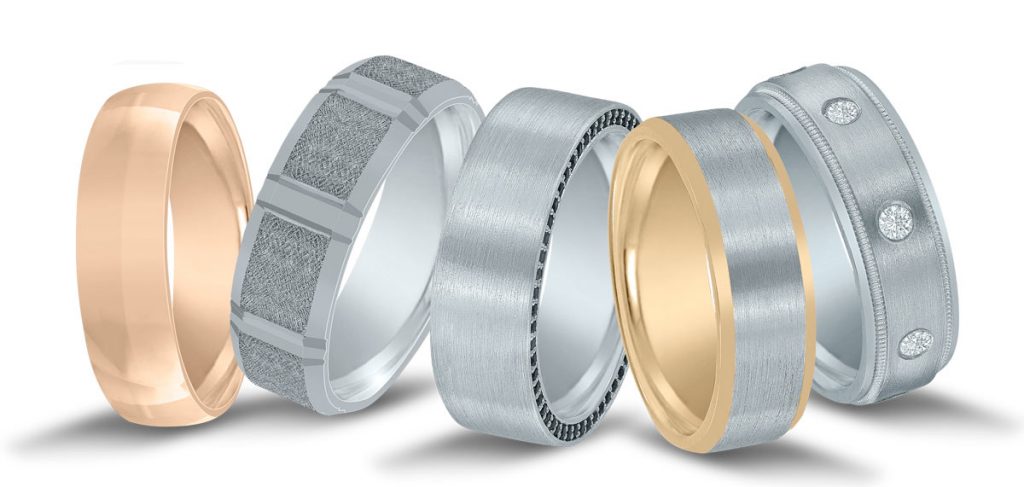 We sometimes all need advice, so feel free to ask about choosing the right metal for your wedding band, making changes to our styles and anything else you may have on your mind.
Don't be afraid. It's not every day that there's a real, true Wedding Band Guru at your disposal.
Diamonds Direct Charlotte
4521 Sharon Road
Charlotte, NC 28211
(704) 532-9041
Get directions
Visit the Diamonds Direct Charlotte Facebook page
On Friday (from 5:30PM until 7:30PM), enjoy complimentary hors d'oeurves courtesy of 5Church Charlotte. With specially paired wines poured by Sophia's Lounge.
Event hours:
Friday, November 22 – 10:00AM until 8:00PM
Saturday, November 23 – 10:00AM until 8:00PM
Sunday, November 24 – 12:00PM until 6:00PM
The Diamonds Direct flagship location in South Park is a hidden gem nestled on the first floor of the Porter Building – just across from the Cheesecake Factory.
These Panther-loving bridal jewelry experts are excited to help you find the ring of your dreams!
For eight consecutive years Diamonds Direct Charlotte has been voted Charlotte Magazine's Best of the Best Fine Jewelry Store.
Diamonds Direct San Antonio
15900 La Cantera Pkwy
The Shops at La Cantera (Building 18)
San Antonio, TX 78256
(210) 247-9197
Get directions
Visit the Diamonds Direct San Antonio Facebook page
Show date: December 6 – 8, 2019
Event hours:
Friday, December 6 – 10:00AM until 8:00PM
Saturday, December 7 – 10:00AM until 8:00PM
Sunday, December 8 – 12:00PM until 6:00PM
Don't miss great refreshments brought in by Heavenly Gourmet and Banfi Wines on Friday (5:00PM until 7:00PM).
Visit their beautiful showroom at the Shops at La Cantera to find your perfect wedding band. Grab your beloved and visit during one of their many events throughout the year.
For more information, just keep an eye on the Diamonds Direct website and social media for more details.
Or subscribe to our Novell News Feed.
More about Novell Wedding Bands
Thirty-one years of award winning wedding band designs – trending and changing like the people who wear them.
Novell Select represents the very best and most popular work we've done by combining bands from our Max Patrick, Z*ART, NQP, and core Novell Collections.
With over 20,000 wedding band designs in our catalogue of work, we've streamlined the selection process by cherry picking styles and creating groups.
They are:
• INSIDE OUT bands are one color on the inside and another on the outside. For example, signature designs for men are typically rose gold on the inside and white gold or platinum on the outside. This ever-expanding category is one of our most popular and offers designs from uncomplicated to intricate. For manufacturing and plating reasons, INSIDE OUT bands are only available in precious metal.
• COLORS is a blend of designs that are popular in yellow, rose, two- or three-tone gold. Everyday jewelry is being redefined in bursts of color. And wedding bands are no exception. This is our fastest growing category!
• DIAMOND bands bring stone to precious metal. Whether understated or serious-statement designs, somewhere in this collection is a band for that distinctive men's diamond band customer. Many of the DIAMOND designs are available as alloy or silver samples.
• ORGANICS are hand-forged-background textures that can be put on Novell precious-metal bands. From sand to lava, tree bark to ravine, supple to severe, organics speaks to those who identify with one of the many moods of Mother Earth
• CIRCLES bands are stackable in groups or used as spacers. Shapes and textures are made by machine and by hand with over thirty choices and so many combinations that you – or your customer – will never really have to make up their mind. Diversity is a state of jewelry.
• Our TOP 20 wedding band designs literally never go out of style. See a design but want it in a different width? How about a different finish? Or maybe even add diamonds, change them or take them away? Just ask! Almost all wedding band designs can be made in platinum, palladium or gold.
• TRENDING are the top selling designs in the SELECT Collection. As real-world trending of styles changes, so does this collection, although a lot of our most popular designs stand the test of time. Excellence is always in fashion.
• ALTROm is a special alternative metal collection and the result of our affiliation with HEAVY STONE RINGS in Utah. It includes bands made from diverse materials such as wood, cobalt, carbon fiber, titanium, etc., often combined with precious metal.
---