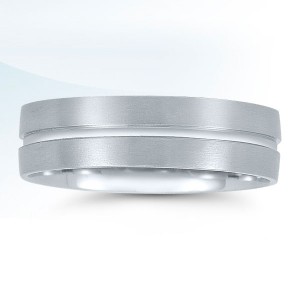 Who says that a wedding band has to be ordinary? The center of this wedding band features a great design created by a unique carbon tool process.
Featuring a high polished center groove, N01917 is also 6mm wide. Novell can customize our designs to your specifications, so that your wedding ring will be one of a kind. Exactly the way you want it. In different metals (platinum, palladium or gold), different widths, finishes and much more. Customization sets Novell apart from all the rest.
Visit an authorized Novell retailer for pricing inquiries.