Although a Novell representative won't be at these locations, be sure to ask to see our wedding bands at these Diamonds Direct Holiday Designer Showcases in Birmingham, Raleigh, Virginia Beach, Frisco, Dallas, and Cleveland.
Save up to 20% on your purchase. See stores for information.
If you live in Charlotte, visit our Wedding Band Guru Howard at the Diamomds Direct South Park location.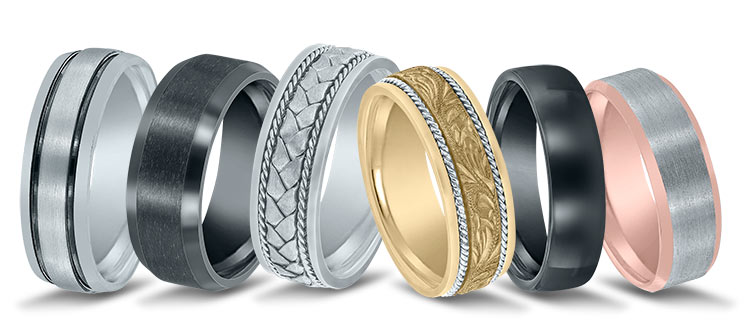 Here are more details:
Diamonds Direct Birmingham
2800 Cahaba Village Plz.
Birmingham, AL 35243
Tel: (205) 201-7400
Get Directions
Hors d'oeuvres provided by Seasons 52 – served on Friday from 5:00PM to 7:00PM.
Take a trip over to Cahaba Village in Mountain Brook for the Holiday Designer Showcase. Diamonds Direct Birmingham may be the only place in the South where Auburn and Alabama fans can coexist. They absolutely love supporting both teams.
Diamonds Direct Raleigh
4401 Glenwood Avenue
Raleigh, NC 27612
Tel: (919) 571-2881
Get Directions
Hors d'oeuvres served on Friday from 5:00PM to 7:00PM.
Located outside Crabtree Valley Mall, Diamonds Direct has called Raleigh home since 2008. Whether you're shopping for the perfect fashion jewelry designs, or popping the question to the love of your life, their diamond experts have you covered!
Diamonds Direct Virginia Beach
4452 Virginia Beach Blvd
Virginia Beach, VA 23462
Tel: (757) 837-0288
Get Directions
Enjoy refreshments provided by The Butchers Son on Friday night (5:00PM to 7:00PM).
Diamonds Direct Virginia Beach has the best selection and diamond experts that Hampton Roads has ever seen. They'll make sure you leave knowing you've gotten the very best for your budget. Ask about their heroes in uniform discount.
Diamonds Direct Frisco
8440 State Hwy 121, Building A
Frisco, TX 75034
Tel: (469) 850-4270
Get Directions
On Friday (from 5:30PM to 7:30PM), enjoys sips and snacks sponsored by Banfi Wines and EG Steak.
Visit Diamonds Direct in Frisco to shop their latest arrivals and exclusive selection of diamond and fine jewelry. Stay tuned for promotional events, designer showcases, and more!
Diamonds Direct Dallas
8127 Preston Rd.
Dallas, TX 75225
Tel: (972) 342-6663
Get Directions
Hors d'oeurves provided by Fleming's Prime Steakhouse. Drink wines provided by Banfi Wines (Friday – 5:30PM to 7:30PM).
Be the Star of the show at your next event after shopping with Diamonds Direct at their Preston Hollow location. Whether you're looking for the perfect way to say "I love you" or upgrading your already stunning set, they have the right selection to keep you happy. Hang out long enough and you may see someone from America's Team!
Diamonds Direct Cleveland
2101 Richmond Rd.
Beachwood, OH 44122
Get Directions
Tel: (216) 273-2812
Get Directions
Refreshments provided by The Captain Grille on Friday (from 5:00PM to 7:00PM)
One of the newest Diamonds Direct locations, check back regularly for information about all the events Novell will be present.