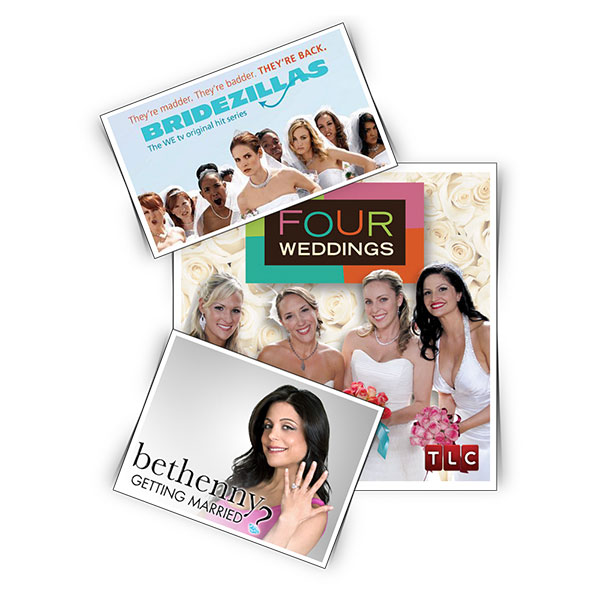 Wedding planning has everything needed for successful reality television – ups, downs and everything in between. The importance of the day combined with preparation demands provides enough drama to make for interesting viewing. It is no wonder why the many wedding shows such as Four Weddings have thrived.
Bravo is known to feature specials typically for housewives that are getting ready to tie the knot. Real Housewives NeNe Leake, Kim Zolciak-Biermann, LuAnn de Lesseps and Bethenny Frankel were all front and center for Bethenny Getting Married. Their dramatic personalities, when combined with the stresses of wedding planning, make for great entertainment.
On the other hand, wedding shows like Four Weddings have what I find to be an interesting nature. It essentially rates how the day went based on many factors such as food and venue. However, aren't the differences in wedding simply a reflection in different individual preferences? Isn't a special wedding day by nature supposed to be unique? How is execution of such a special day confined to such generic categorical ratings?
These are all the questions that run through my mind when I tune in to such shows. I mean – at the end of the day visions will obviously differ. So how is it rated on such a simplistic and standardized scale? I realize that I am over analyzing this to the upmost degree, but I am doing so because I think reality TV is some cases can DILUTE ACTUAL REALITY.
Believe it or not, I am not completely against these shows, as I watch them! In fact, some good can come of these shows. They can serve as source of wedding planning ideas and plain reassurance that it all works out in the end. There has yet to be an episode in which the bride and groom have not been completely smitten with one another at the end of the night. Despite dramatic twists and turns that run its course throughout an episode, there is always a moment of gratification shown. In the end, both bride and groom could not be any happier for the fact that they are spending the rest of their lives together. These days, everyone seems to need a little reassurance that it all works out in the end.
Are you interested in checking out some of the best wedding shows on TV? Ranker.com has a great list of wedding shows, and you can vote for your favorite.
If reality TV isn't your style, then maybe a featured wedding movie on Netflix is more to your liking.
Happy Wedding Planning!
Article by Kelly Rupinski.