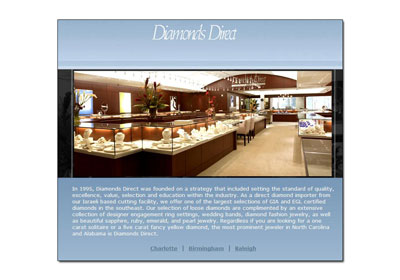 Authorized Novell wedding band retailer Diamonds Direct USA will be featuring Novell wedding bands at the upcoming bridal events to be held at all of their locations. Be sure to ask about how Novell can make your wedding band wider, narrower, in different metals (platinum, palladium or gold), with different finishes and more. With Novell and Diamonds Direct USA, you don't always just have to settle for what you see in the jewelry showcase!
Bridal event dates and locations
Diamonds Direct USA of Alabama (Directions)
2800 Cahaba Village Plaza – Suite 150
Birmingham, AL 35243-5939
Telephone #: 205-972-8994
Date: Friday – November 12, 2010
Saturday – November 13, 2010
Sunday – November 14, 2010
Diamonds Direct USA (Directions)
4521 Sharon Road – Suite 101
Charlotte, NC 28201
Telephone: 704-532-9041
Date: Friday – November 19, 2010
Saturday – November 20, 2010
Sunday – November 21, 2010
Diamond Direct USA of Raleigh (Directions)
4401 Glenwood Avenue
Raleigh, NC 27612
Telephone: 919-571-2881
Date: Friday – December 2, 2010
Saturday – December 3, 2010
Sunday – December 4, 2010
More about Diamonds Direct USA
In 1995, Diamonds Direct USA was founded on a philosophy that included setting the standard of quality, excellence, value, selection and education within the jewelry industry. As a direct diamond importer from their Israeli-based cutting facility, Diamonds Direct offers one of the largest selections of GIA and EGL certified diamonds in the Southeast. Diamonds Direct's selection of loose diamonds are complimented by an extensive collection of designer engagement rings, wedding bands, diamond fashion jewelry, and beautiful sapphire, ruby, emerald, and pearl jewelry as well. Regardless if you are looking for a one carat solitaire or a five carat fancy yellow diamond, the most prominent jeweler in North Carolina and Alabama is Diamonds Direct.
Visit the Diamonds Direct USA jewelry website.