Guys – here's a chance to win one of these unique tribal tattoo-inspired stainless-steel rings. Not available in stores, Novell's TATU rings are perfect for every day wear. Available in sizes 7 through 14 (and in half sizes), you won't be able to win rings like these anywhere else. Choose from one of five featured styles. There will be five winners total. Must be over the age of 19, and a US citizen. No purchase necessary. Suggested retail price for each design is $69.99.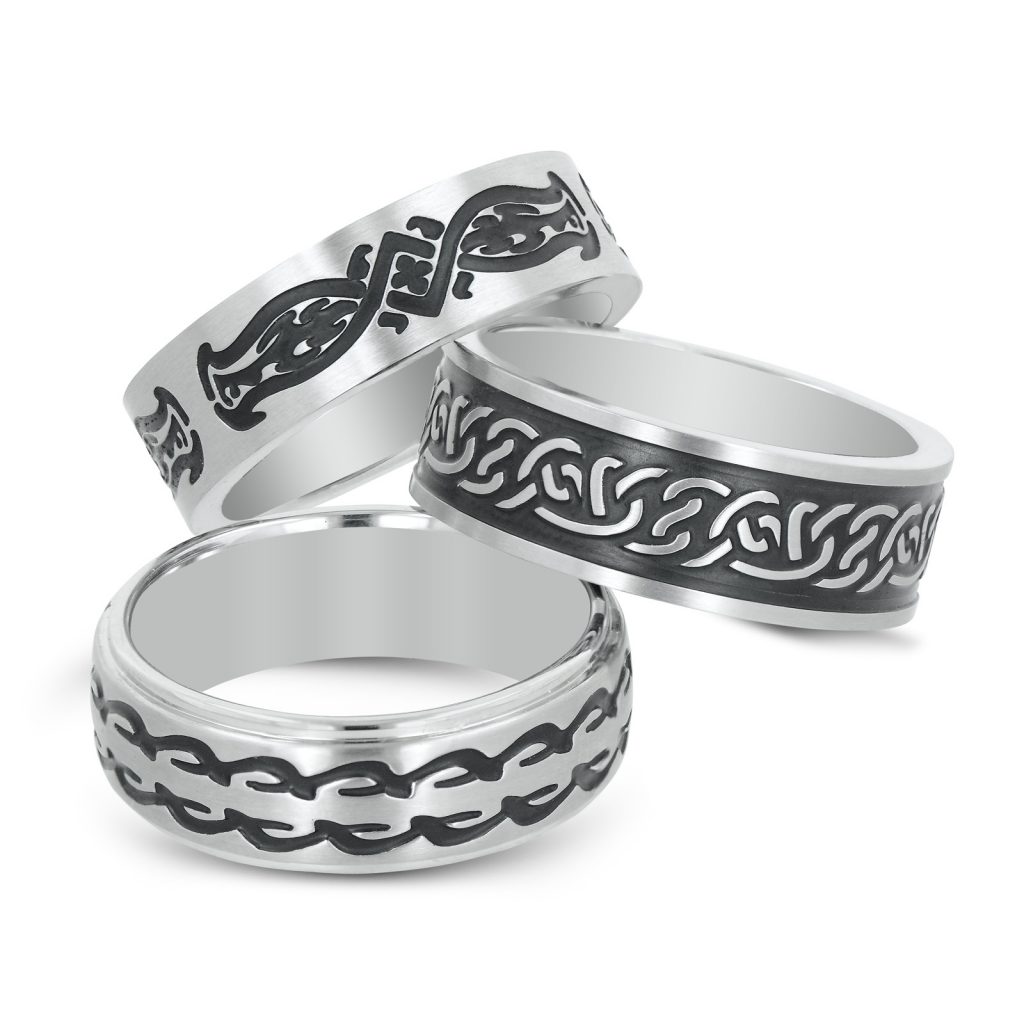 How do you win?
All you have to do is earn points by following our simple social media sharing list featured below. The more sharing options you complete – the more points you earn. The top participant with the most points wins. Remember to like and share as much as possible!
Enter today. Our Unique Tribal Tattoo Ring Giveaway ends Wednesday, June 27, 2018. See official contest rules below for more information.
Please note: If you have won a contest by Custom Shop or any other Novell Group divisions (Robert Manse Designs, Novell Design Studio, Lieberfarb or Wright and Lato) in the past 90 days, you are ineligible to win.
This contest is brought to you by Novell's Custom Shop division. If you are looking to have an everyday ring, engagement ring, wedding ring or piece of jewelry special designed, Custom Shop can help.
Choose from one of these TATU stainless-steel rings:
What is Novell's Custom Shop?
Custom Shop is where Novell's state of the art manufacturing facility brings the independent retail jeweler an easy way to say – "Yes, I can custom make that for you."
Custom Shop offers 3D printing, so your customers can try on their jewelry before it's put into production. Here are more Custom Shop capabilities:
• We provide price quotes and CAD renderings within forty-eight hours for customer approval.
• Finished pieces are delivered within three to four weeks.
• Every creation is 100% made in America, so there's no waiting for your order to arrive from overseas.
• Our domestic manufacturing muscle, with casting facilities, an extensive machine shop, and a skilled hand fabricating staff, gives our authorized retailers a clear path to market advantage.
• Some of our other technologies include casting, mold making, machine fabricating, finishing, setting, jewelry work, restoration, engraving, braiding and plating.
Interested jewelers can call 888-668-3551 for more information.
Consumers can contact one of our authorized retailers and tell them you want Custom Shop to make your jewelry dream come true.
---