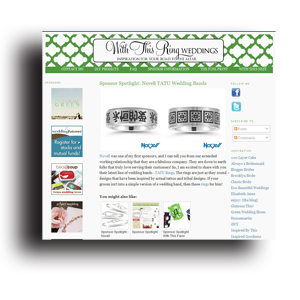 Wedding blog "With This Ring" featured designs from Novell's new TATU collection.
"Novell was one of my first sponsors, and I can tell you from our extended working relationship that they are a fabulous company. They are down to earth folks that truly love serving their customers! So, I am excited to share with you their latest line of wedding bands – TATU Rings. The rings are just as they sound – designs that have been inspired by actual tattoo and tribal designs. If your groom isn't into a simple version of a wedding band, then these rings are for him!"
View the Tatu ring post on With This Ring – Sponsor Spotlight: Novell TATU Wedding Bands.
---