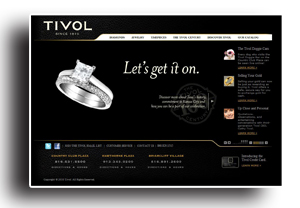 Kansas City jewelry store – and authorized Novell wedding band retailer – Tivol now features Novell wedding bands on their website. Tivol is a relatively new customer that carries a great selection of classic designs and newer wedding band styles.
More about Tivol:
In 1910, Charles Tivol opened a jewelry shop in downtown Kansas City. Perched on a bench, he carefully crafted each piece of jewelry and set a timeless standard for enduring workmanship and style.Charles also handed down his unrelenting passion for quality. His son Harold began working in the store as a boy and now serves as chairman of the company. Under Harold's leadership, a second store was opened in 1951 on the Country Club Plaza. Soon, it was outselling the downtown store, and the two later merged.
Nearly a century after its doors opened, Tivol's tradition continues with its third generation. Under the leadership of Harold's daughter Cathy, Tivol has continued to flourish. A second location was opened in 1994 in Johnson County's Hawthorne Plaza. Tivol added a third location in 2006 at Briarcliff Village in the heart of the Northland.
Now that the business has attained the 100-year mark, Tivol is going stronger than ever, maintaining our tradition of offering the world's most beautiful jewelry and timepieces in a variety of price ranges.
Cute fact – Every dog who visits the Tivol Doggie Bar on the Country Club Plaza can be seen live online! See Spot. See Spot run. See Spot online via the Tivol Doggie Cam.