Platinum – if you are not aware – is THE premium metal for bridal jewelry.
When purchasing a wedding ring or engagement ring, you should want to choose the best metal out there – it's something that symbolizes your relationship together.
It's also something that should last and last.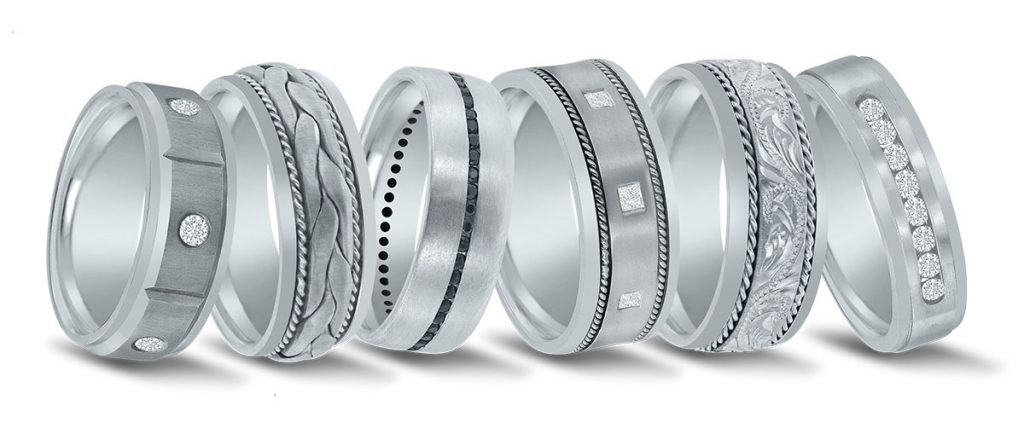 Why trade in the piece of jewelry you wore on your wedding day because its worn out?
Or because it doesn't fit and can't be sized (like with most of the popular alternative metals out there today).
If you are looking for a white metal for your ring – consider platinum.
Why?
Because platinum is distinct from all other metals – it is rare, pure and precious. Platinum bridal jewelry represents deep true love: as rare as the metal itself.
When used in jewelry, it is usually 95% pure, and certified by the stamp – PLAT. Be careful of piece of jewelry identified as this pure metal, but not properly stamped.
Platinum is 100% hypoallergenic and cloud white in color, so it never tarnishes or changes color. There is never a reason that it needs to be plated.
Its natural white tone is incomparable. A soft patina paints the piece with an antique hue as time passes.
White gold – which is not naturally white – may yellow over time.
Want a two-tone ring? Platinum can be combined with other colors and types of precious metals. The design possibilities are limitless.
Platinum will also last over the years. Your platinum jewelry becomes an heirloom, as you will pass it down to future generations.
Platinum is a naturally strong metal. If you choose a wedding ring with diamonds, your stones will be held securely in place for a long time.
An engagement ring center stone looks brilliant. Even if you want a gold engagement ring, consider asking for a platinum head.
Its subtle luster enhances stones rather than overshadowing their natural beauty.
You also won't have to worry about a prong coming loose at the wrong time.
Platinum is also 30 times rarer than gold. If you put all the platinum ever mined and melted into one Olympic sized swimming pool, it wouldn't reach further than your ankles.
Gold, on the other hand, would fill three pools.
While shopping for your bridal jewelry – try comparing rings made from different metals. Feel the quality of each material.
Men's diamond wedding rings
Observe platinum's weightiness and study its texture. If you are concerned with durability, consider that platinum will hold its characteristics.
Unlike the other precious metals, when platinum scratches, no metal is lost. It maintains its weight, so complete restoration is almost always possible. Platinum doesn't wear down and get thinner and lighter in weight over time.
Need further help with choosing the best metal for your wedding ring, engagement ring or bridal jewelry?
Check out our free metal comparison chart.
Classic wedding rings
Also keep this in mind – most alternative metals do not have lasting value. They may look or feel cool, but most have been made cheaply overseas and have tremendous mark-up.
Is there a better way than to show your significant other that your commitment has value than with a metal like platinum?
More food for thought – almost all of our designs can be specially made in this metal. It doesn't matter if it appears in a showcase or online in another metal or color.
All you have to do is ask!
Happy shopping!
---