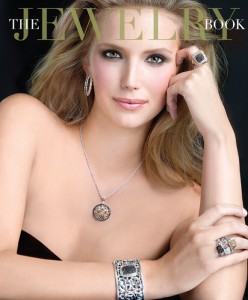 View the latest online issue of The Jewelry Book in an interactive Flash format or as a PDF download. Previous digital editions have been viewed over 10,000 times combined, so be sure NOT to miss the latest issue!
Articles include…
• M. Lemp Jewelers – We aren't in the jewelry business. We are in the business of love.
• Made in America – A new way to think about Made in America. Featuring bracelets by designer Susan Sadler.
• Red Carpet Revelations – Research demonstrates and marketers agree that consumer spending habits are definitely influenced by what celebrities wear. This year's red carpet gave them plenty of variety to choose from.
• Charles Krypell "On The Cover" – Jewelry designer Charles Krypell reinvents jewelry time and time again.
• Giving Back – Louis Anthony Jewelers of Pittsburg is a true star in the community.
• Season to Season – Platinum rings for $500? You better believe it!
• Slowly Rebounding Jewelry Market – Beware the fast changing landscape in the mature, slowly rebounding fine jewelry market.
• Trends and Views – Highlighting two new jewelry collections from John Apel, and JB Star's innovative mobile applications.
Top jewelry designers and retailers highlighted in the Spring 2010 issue of The Jewelry Book are:
Alex Sepkus, Charles Krypell, Christopher Designs, De Hago, Gem Platinum, Jack Abraham, Jack Kelege, JB Star, Jeffrey Bilgore , John Apel, John Buechner, Katharine James, Louis Anthony Jewelers, M Lemp Jewelers, Makur Designs, Novell Wedding Bands, Precision Set, Quadamas Asscher Cut, Rudolf Friedmann, Supreme Jewelry and Susan Sadler.
Read The Jewelry Book.
Visit The Jewelry Book website.
---