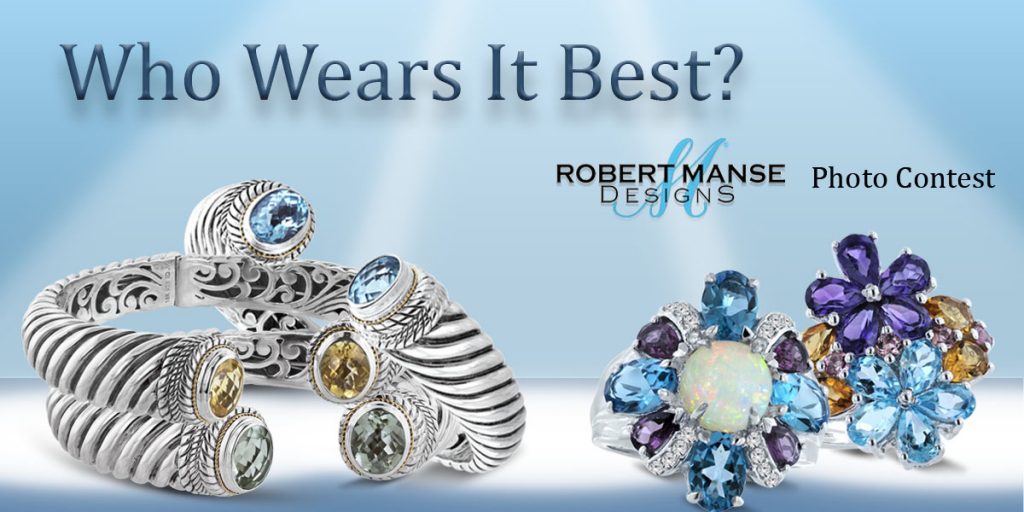 Are you a big fan of Robert Manse Designs? Have a few Bali Designs or Gem RoManse styles in your jewelry collection? If you own a piece of Robert Manse Designs jewelry, now is your chance to show it off. Robert is happy to announce his "Who Wears It Best?" Facebook Photo Contest.
Starting on November 15, 2017, you can post a fun and fantastic photo of yourself wearing your Robert Manse Designs piece under the official "Who Wears It Best?" post on Facebook. From all the photos uploaded, a random participant with at least five LIKEs and the hashtag #robertmansedesigns will be selected. The winner will receive a $250 shopping spree on RobertManseDesigns.com.
The "Who Wears It Best?" Facebook Photo Contest is open to residents of the United States and Canada over the age of nineteen. Winner will be announced via Facebook Live on Monday, November 27, 2017.
Speaking of "live," don't miss the Wednesday, November 29th airing of HSN's Designer Gallery with Colleen Lopez. Robert's handmade Balinese creations will be featured twice at 12pm and 7pm (EST). Making its debut will be the all-new silver shrimp-design cuff bracelet in some new gemstone choices! Don't miss it!
More about Jewelry Designer Robert Manse:
A New York City native, designer Robert has been captivated with jewelry since he was a young boy. His first job in Manhattan was with a diamond jewelry manufacturer in Midtown Manhattan where he learned how to enchant his customers by providing quality jewelry at attainable prices. Over the course of many years, Robert was taken under the wing of two Master Designers who taught him the art of making fine and unique jewelry in the U.S. and abroad.
With over twenty-five plus years in the industry, he has designed and sold several successful high-end jewelry brands and his lines have been showcased at some of the world's top luxury retailers. From glamorous red-carpet looks to exotic hand-crafted silver creations, Robert Manse has designed jewelry for and dressed many a celebrity in his unique wearable art. Showcasing his collections at luxury retailers nationwide, he has traveled the world in search of the most passionate and skilled craftsmen and jewelers to bring his spectacular creations to life. From India to Hong Kong and Thailand to Bali, seeking the perfect balance of world-class gemstones and metals, keeping wear-ability and comfort in mind, Robert designs fashion-forward yet classic designs with bold color combinations. This is his never-ending passion.
---