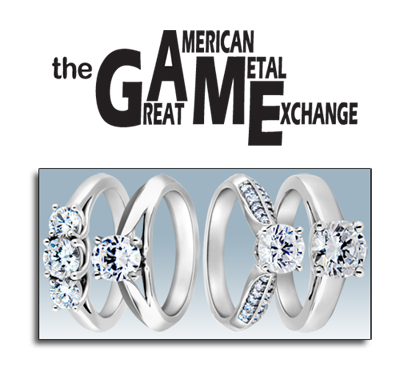 Novell Design Studio has created a new metal exchange program to help put affordable platinum bridal jewelry back into qualified jewelry stores. The concept is simple – retailers can send us their unwanted gold, platinum and/or palladium jewelry (without the diamonds – metal only) – and in return we'll send our new platinum bridal jewelry program.  It is too good to be true and only available for a limited time! GAME is a nationwide metal exchange where all metal will be refined, cast and finished in a single massive order.
Please visit www.novellsgame.com to learn the basics of GAME – the Great American Metal Exchange. A GAME facilitator will be happy to answer all of your questions as well.
Why is GAME so important? It seems that retailers have been restocking less platinum in such a difficult economy, yet consumer interest is still evident. Consumer research tells us that 81% of women about to be engaged want platinum*, while the primary reason consumers purchase something other than platinum is because the product was not available at the store**. The GAME solves this problem and positions jewelry stores to make their customers' wishes come true, and earn them a more profitable sale in the process.
See GAME's platinum bridal jewelry on Facebook.
*Conde Nast Bridal Group Wedding Study
** Platinum Guild International's Mystery Shopping Research